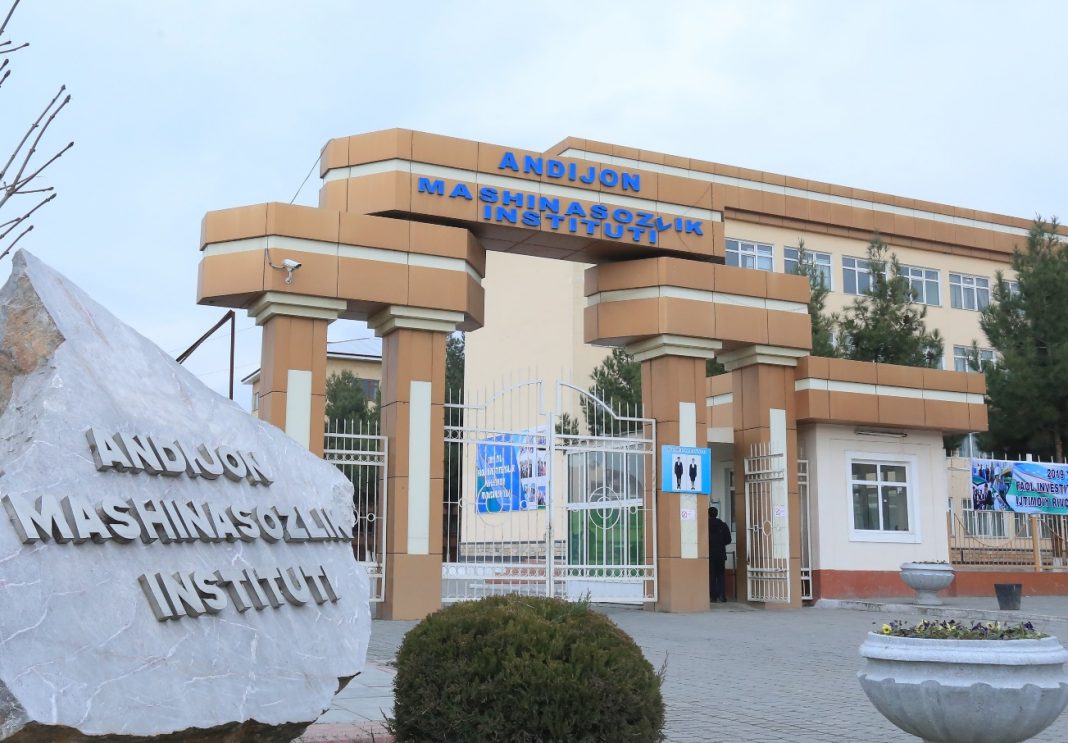 The date of establishing and history: In fact, HEI was founded in 1976, the same year in Andijan, educational counseling centers of Tashkent National Economy Institute was established, later in 1979 the branch of the Tashkent National Economy Institute was established the bases of educational counseling centers. In 1990 the branch was transformed into the Economics and Management Institute. After several years (in 1995), on the basis of three universities in Andijan region – a branch of the Tashkent Textile and Light Industry Institute, branch of Tashkent Technical University and Andijan Economics and Management Institute was organized Andijan Engineering and Economic Institute. In2011, on the basis of this institute, Andijan Machine-Building Institute was established, Resolution of The Cabinet of Ministers of Uzbekistan No. 214 of 25.07.2011 "On the transformation of Andijan Engineering and Economic Institute into Andijan Machine-Building Institute". Andijan Machine-Building Institute is the only Higher educational institution in Central Asia in the field of machine-building.
The number of faculties and departments: At present, there are the three campuses in Andijan city. AndMI has 6 faculties, 24 departments, Luban Workshop and 8 research laboratories. The Institute provides training on 23 Bachelor programs; 12 Master programs; 8 Ph.D. programs; 7 Double Degree Bachelor programs; 1 Double Degree Master program. The total number of academic staff working at the university is more than 293, including 105 doctors of sciences (DSC), professors and PhDs, 98 independent researchers, and 36 Ph.D. students.
The number of students: 6487 students are studying at 23 BSc educational directions, 142 Master students at 12 specialties of education on MSc degrees of Andijan Machine-Building Institute.
In accordance with the order of the State Inspectorate for Supervision of the quality of education under the Cabinet of Ministers of the Republic of Uzbekistan issued in December 2017, AndMI received the State Accreditation Certificate for 5 years for compliance with the higher education institution and postgraduate education.
The scientific potential of AndMI consists of 36 % in 2019.
In 2019: 32 study courses are taught in English languages, 18 students participate in academic exchange programs abroad, 49 teachers and researchers take part in conferences and workshops at leading foreign universities, 10 invited teachers give lectures to AndMI students.
TCTI is cooperating with more than 80 higher educational institutions and scientific research centers from foreign countries. This cooperation is expanding day by day.
International cooperation: International cooperation is an integral part of the Andijan Machine-Building Institute activity and an important tool in ensuring the quality of education and its compliance with international standards in the training of competitive professionals in demand in the labor market as inside and outside the country.
The office of international cooperation is the organizer and coordinator of international educational programs and projects of the Institute, carries out external relations with foreign partners, promotes the expansion of scientific pedagogical exchange, as well as sends teachers, doctoral students and staff of the Institute for training at foreign educational institutions. Currently, the office of international cooperation provides and coordinates contacts with higher education institutions in more than 30 countries in Europe and Asia. Being full member of the Association of Technical Universities in Russia and the Commonwealth of Independent States, it cooperates with more than 50 higher education institutions of the Association of Technical Universities. The study of international experience is an important aspect in the improvement and implementation of the national integration concept of science, education and production.
Our priority is to improve the quality of engineering education and research through developing partnerships and integrating with the Global Educational Environment. Moreover, international relations are vital for our Institute because we see it as an important instrument to ensure the quality of education and its conformity to international educational standards. Our primary objective is to close the readiness and skills gap among engineering graduates across the world, especially in CIS countries. Therefore, AndMI has strong motivation to collaborate with EU Higher Educational Institutions, learn and adopt from their expertise in order to provide high quality education that comply with International Educational Standards.
CONDITIONS AT THE AndMI for international students
4 educational buildings in Andijan
2 student dormitories in Andijan with capacity 500 and 6 student canteen complexes
3 sport complexes
9 computer rooms
22 educational laboratories and workshops
4 scientific laboratories and centers,
NUMBER OF STUDENTS IN 2019
Bachelor degree — 6487
Master degree — 142
Double Degree Bachelor students – 120
Double Degree Master students – 10
Address:
56, Boburshox Street, Andijan, 170019, Uzbekistan
Tel: +998 74 234-31-64
Fax : +998 74 223-43-67
Website: www.international.andmbi.uz
e-mail: andmi-xab@mail.ru
Rector: Umid Turdialiev
Contact person: Juraev Zafar, jzafar@mail.ru, Head of International Relations department