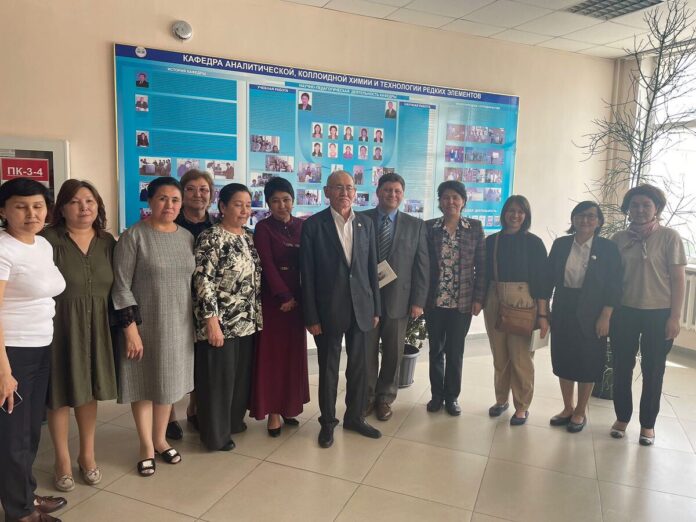 "A key element of the program was not to have one-shot intervention but to establish sustainable long run collaboration and help all these universities advance in science and education." – Paul Takhistov, Rutgers University
With its outstanding natural resources and stark environmental issues, Kazakhstan needs a new generation of young professionals who are equipped with STEM competencies and a practical focus on green issues. But despite the existence of world-class universities, Kazakhstan's regional higher education institutions do not yet have sufficient capacity and proper methodology to educate this coming generation.
In order to build the necessary knowledge and practical experience for sustainable STEM education and innovation at regional universities, this project established a capacity-building research and education consortium. It was led by PI Paul Takhistov of Rutgers University, working with colleagues from Mahambet Otemisov West Kazakhstan University (WKU) in Uralsk, Muhtar Auezov South Kazakhstan University (SKU) in Shymkent and Al-Farabi Kazakh National University in Almaty.
The project — titled "Creating a Partnership Program in Green Nanotechnology and Environmental Sensing" — was funded by a grant awarded through the U.S-Kazakhstan University Partnerships Program, administered by American Councils for International Education and funded by the US Department of State through the US Embassy in Kazakhstan.
The team understood both the promise and the challenges of working across very different educational systems. "Because of the complexity of the project, we took a staged approach," noted Takhistov. The team dedicated the beginning of the project to understanding the programs of each university and harmonizing their approach. Working from that established base, they were able to develop the consortium for maximum impact.
BUILDING A BASE OF STEM KNOWLEDGE AND CAPACITY
The team's first focus was on curricular revision. They reviewed the existing environmental science offerings at each of the three Kazakh universities, identifying curricular gaps and opportunities for embedding essential curriculum. They developed short courses, or modules, focusing on the most critical-to-success elements of environmental studies including green nanotechnology and environmental sensing technology. The modular approach allowed the universities to integrate this content into existing courses, bypassing the long bureaucratic procedures associated with completely new curricula.
The Rutgers team developed online skill-based workshops in both hard and soft skills. For hard skills, they led multi-part learning opportunities on nanotechnology fundamentals for all three universities, as well as a workshop on current biosensing technologies for environmental monitoring for the Research Institute at Al Farabi Kazakh National University. They also recognized the importance of soft skills; as Takhistov noted, "Often these are the major barrier for young scientists entering the field of scientific research and international communication." To meet this need, the team developed and presented a series of seminars, covering topics such as how to write and publish an academic paper, how to create a reputation as a scientist in an international context, and — for graduate students — how to apply and study in US graduate schools.
In May, Rutgers team members travelled to Kazakhstan. They learned much from their visits to both the Kazakh Ministry of Education International Department and the U.S. Embassy, but the heart of their work was at each of the three universities where they met with high level administrators, departments, individual faculty, the international departments, and lab teams. In each institution, they spent several days advising doctorate-level graduate students on research methodology, scientific communication/writing, and technical issues such as protocols, data interpretation, and research design.
Kazakh faculty members visited Rutgers for practical lab training and pedagogical development. They received hands on lab experience in the area of green nanotechnology, and learned about using waste from agriculture, designing green delivery systems, and designing environmental censuses. Rutgers' teaching support center presented a short course on active learning and educational technology, which team members described as "a huge success" that is inspiring further collaboration.
The project built a huge base of STEM knowledge and capacity. More than 80 events were held. Fifty three students participated from West Kazakhstan University, 70 students and 28 faculty from South Kazakhstan University, and 20 students from Al Farabi Kazakh National University. Four courses were designed or redesigned with green nontechnology. Already four academic papers have been written and one conference proposal accepted. "The project is very significant in advancing my professional goals," noted Dr. Zhanar Ospanova of Al-Farabi Kazakh National University, pointing to her sharpened research and communication skills.
The consortium is just getting going. Rutgers University is in the process of signing MOUs with their Kazakhstani partners. Scientists from both sides have submitted grant proposals together, with more on the way. Rutgers' learning center is developing a faculty training program for the Kazakhstani partners. And Takhistov became an official co-adviser for five Kazakh PhD students.
Takhistov points to the in-person visits he did with these students and others as particularly impactful. "When we see graduate students who were a little bit lost due to lack of resources or time pressure, and when we work with them for several days for several hours and we see that they know what to do and are full of energy and are eager to get new knowledge and data — this is very rewarding." With an invigorated curriculum and young scientists like this, the consortium is already building Kazakhstan's new generation of environmental professionals.
About the Program:
The U.S.-Kazakhstan University Partnerships Program builds capacity for substantive international engagement between higher education institutions in the United States and Kazakhstan. It facilitates partnerships that modernize curricula and enhance teaching capacity in STEM fields, increase research capacity –particularly in the areas of renewable energy, environmental sciences and air quality — and enhance institutional capacity for internationalization.
About the University Partners:
Rutgers University with a main campus in New Brunswick, New Jersey, is one of America's leading public research universities.
Mahambet Utemisov West Kazakhstan University is located in Oral. It is the oldest university in Kazakhstan.
Muhtar Auezov South Kazakhstan University in Shymkent is the largest university in Kazakhstan, with approximately 17,000 students. It provides training in 76 technical and humanitarian specialties.
Al-Farabi Kazakh National University in Almaty is one of the country's premier research universities.