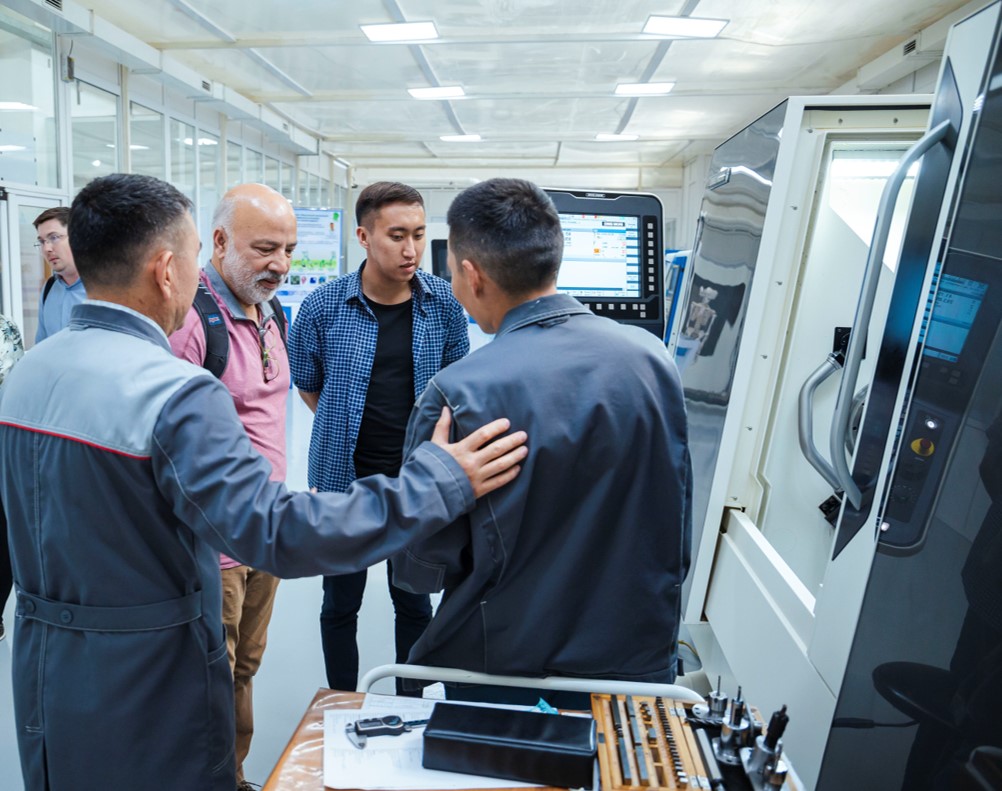 "The project is of great importance in the direction of new academic and scientific exchanges at the level of professors and students in the field of renewable energy." – Dr. Tamara Segeda, Dean, Mathematical and Physical Sciences, East Kazakhstan Technical University
Kazakhstan has launched a bold commitment to green energy, and it is trying to get there fast. The country's program was established less than a decade ago in 2013, and currently has 83 renewable energy facilities with an installed capacity of 936.8 MW. It has named ambitious performance indicators: tripling the current renewable energy capacity by 2025 and achieving 50% green energy by 2050.  With abundant resources of sun and wind, the country has the natural resources to do it. But to support this plan, Kazakhstan will need a large number of professionals trained in the field of renewable energy.
In the city of Oskemen, a mining and metallurgic center near the Altai Mountains, East Kazakhstan Technical University is working to fill this need. It has partnered with the University of Delaware (UD) to create an MS program in Renewable Energy with a focus on wind and solar sources. Renewable energy experts from Delaware State worked with EKTU faculty and administrators to assess the existing course offerings, identify gaps, and develop an innovative program with an experiential emphasis.
The universities were able to collaborate thanks to a grant awarded through the U.S. Kazakhstan University Partnerships Program, administered by American Councils and funded by the US Department of State through the US Embassy in Kazakhstan. "We express our deep gratitude to the American Councils for the opportunities provided to develop cooperation," stated Dr. Tamara Segeda, who coordinated the project from the Kazakh side. "We have gained extensive experience in developing cooperation with the University of Delaware at a new level in the field of renewable energy."
GREEN PROFESSIONALS FOR THE FUTURE
The Masters program will be the natural next step for BS students graduating from the existing programs at EKTU, including Electric Power Engineering and Heat Power Engineering. The degree program was developed after extensive discussions between the two partners about existing courses, resources, and needs at EKTU.  Partners worked together to determine the optimal program structure and identified a list of competencies that cover both academic and professional skill sets. For example, graduates of the programs will be able to do such things as mathematical analysis, big data, reading and drafting technical reports and papers, and understanding technological advances and determine their appropriateness for the local contexts
To embed these competencies in the curriculum, the partners identified the need for ten additional courses, both foundational and specific, in areas such as thermodynamics, wind energy, fuel cells, photovoltaics, storage/batteries and CO2 capture and conversion. The PI and other UD faculty members have developed extensive coursework in these areas, and they drew on that experience to create eight courses in the needed areas, including detailed syllabi, course outcomes, textbooks, lecture details for 30 lectures, evaluation tools, and slide decks of up to 200 slides. While Shah and his colleagues have provided the technical basis, EKTU faculty will adapt these courses to Kazakh educational and industry contexts.
One of the most innovative aspects is that this program embeds experiential learning and industry partnerships in its very structure. Students will not only take courses but do research work including an internship and a thesis. This hands-on learning will provide invaluable real-life experiences for students, ensuring that all its graduates are trained in both the theory and practice of renewable energy. And Segeda is very well connected with industry in East Kazakhstan, with longstanding relationships with businesses and companies. Thanks to her connections, EKTU has signed memoranda with local industries who are willing to take masters' students as interns in their organizations.
ACTIVITIES
Overall, 23 people from both institutions participated in the project, including ten faculty members, department heads and administrators. Early in the project, University of Delaware organized a workshop for the EKTU team on research activities in renewable energy, where faculty shared their research practices and experiences.
Two delegations from UD were able to travel to Oskemen. In May 2022, Shah met with EKTU's top management and faculty, laying the groundwork for the curricular structure and necessary administrative approvals. His visit there was instrumental in incorporating the experiential aspects of the program. "EKTU is situated in an incredible location," he said. "You can take a local bus from the university and go to a hydroelectric power plant, which I did. There were several people from the university who were working at the plant as interns. What a wonderful opportunity!"
In July, UD professors Doug Buttrey and Cristina Archer visited the summer school at EKTU to discuss the courses and the full MS degree curriculum. Archer, who directs the Institute of Wind Energy at UD, was excited by the possibilities in East Kazakhstan, noting that it is one of the most fertile places that she has seen for harvesting wind.  She was so inspired by her visit to Oskemen that she donated the necessary instruments for taking wind potential measurements, shipping five boxes of equipment to EKTU. Once the equipment is installed and data recorded, it will become a potential source for a future collaboration.
One project goal fell victim to COVID. EKTU faculty were planning to visit the UD campus to attend classes in renewable energy and work with faculty on pedagogical practices. Sadly, their COVID vaccines were not accepted for entry to the United States, and visa troubles cancelled the trip. "We were very excited to have them here," said Shah. Instead, EKTU faculty will attend classes via Zoom and discuss pedagogy virtually.
SUSTAINABILITY
The program will be up and running in 2023. Two grants for teaching have been approved by the ministry of education, with UD professor Doug Battrey heading to Kazakhstan to teach a course. The UD faculty is committed to ongoing support of the program and of EKTU faculty teaching in it.  "Even after this grant year, we will continue to work in developing these courses," says Shah. The team has applied for USAID funding to further the development of renewable energy education at EKTU. And they have the beginnings of a joint research program.
Team members spoke about the powerful learning that sprang from meeting each other and working together. "None of the participating faculty from UD have ever worked with anyone in any Central Asian country," noted Shah. "This opportunity opened many venues, with EKTU and beyond EKTU, to internationalize our interactions with countries in that part of the world." As a direct consequence of this project, he was connected with USAID and is now also working on a project in Uzbekistan.
"The new connections we have made between EKTU and UD faculty will certainly remain long after the end of this project and will be useful for both universities," noted Shah.
About the U.S.-Kazakhstan University Partnerships Grants Program:
The U.S.-Kazakhstan University Partnerships Program builds capacity for substantive international engagement between higher education institutions in the United States and Kazakhstan. It facilitates partnerships that modernize curricula and enhance teaching capacity in STEM fields, increase research capacity –particularly in the areas of renewable energy, environmental sciences and air quality — and enhance institutional capacity for internationalization.
About the University Partners:
The University of Delaware is a public research university with approximately 18,000 students located in Newark, Delaware.
East Kazakhstan Technical University is one of the top public universities in Kazakhstan. It offers 81 educational programs including 22 experimental and innovative programs.