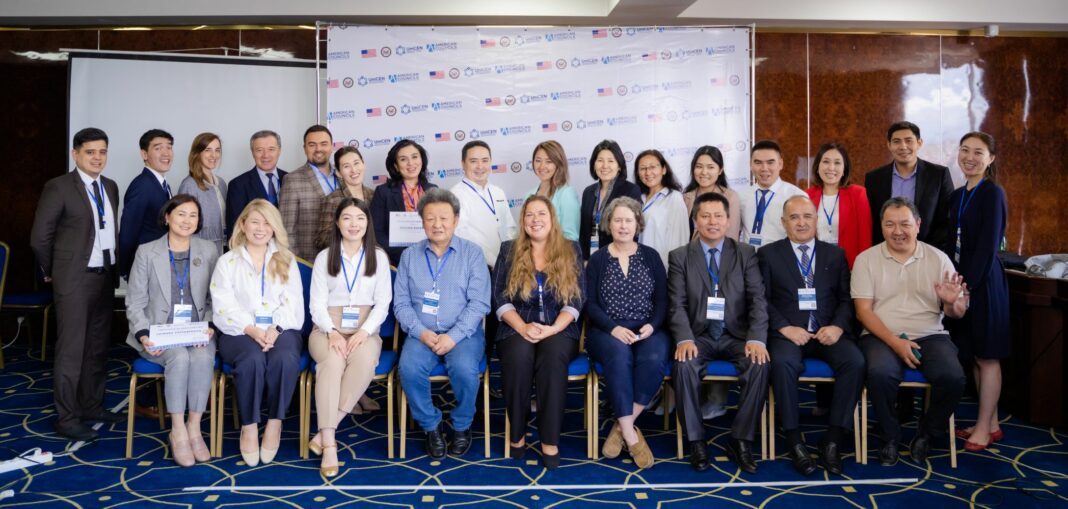 On June 3-4, a diverse group of leaders across academia, business, and government gathered in Bishkek, Kyrgyzstan for the Central Asia University Partnerships Program (UniCEN) to share models and approaches to advance United Nations Sustainable Development Goals (SDGs) at the "Connecting Academia, International Organizations, Government Agencies and Private Sector and Sustaining Cross-Border Networks Roundtable."
Over 75 representatives from Kazakhstan, Kyrgyzstan, Tajikistan, Uzbekistan, and the United States put forward approaches and solutions to tackle issues around clean water and sanitation, affordable and clean energy, decent work and economic growth, responsible consumption and production, and climate action across Central Asia. UniCEN partners presented best practices for building makerspaces, nurturing startup ecosystems, partnering with industry, and introducing curriculum for industrial economics and ethical tourism. The representatives were from more than 40 universities and they highlighted research and curriculum to discover new solutions and train the next generation of specialists in clean water and renewable energy working with U.S. partners.
"We want to bring our countries closer to Sustainable Development Goals," said Roza Otunbayeva former President of Kyrgyzstan and member of the UN Sustainable Development Solutions Network's Leadership Council in a welcome speech. "Not just academia but private business, certainly governments, NGOs, civil society––all of us––we are all actors in their development."
"For those of us in Central Asia, we are not on track on any of the goals. So, what it says is that we need a fundamentally different and radical approach," says Ozonnia Ojielo, UN Resident Coordinator.
Through UniCEN, climate action and air quality is being addressed through the formation of university-based air quality knowledge hubs and inspiring student entrepreneurs to co-design practical solutions on the local level. Companies and universities in Central Asia described how they are advancing efficient irrigation system use, sustainable clean water solutions, and training next generation engineers for global water challenges. U.S. and Central Asian universities are advancing science diplomacy by launching virtual exchanges to address UN SDGs in their classrooms.
In-person sessions and a virtual link enabled participants to expand their networks across higher education institutions, government and non-governmental organizations, and the private sector. Representatives from companies, business associations, and international organizations––including Microsoft, Valmont, Regional Environmental Centre for Central Asia, Enactus, and UNDP––provided recommendations on how to further integrate academia, governmental agencies, international organizations, NGOs, and the private sector to achieving UN SDGs on the regional level.
"I am happy to see that UniCEN is contributing to achievement of the UN Sustainable Development Goals while building partnerships between Central Asian universities and American universities. I hope these two days of sharing information and experience with not only colleagues from academia but also with representatives from the state and private sectors will result in robust plans for future partnerships," said Emilie Bruchon, Deputy Public Affairs Officer, U.S. Embassy in Kyrgyzstan.