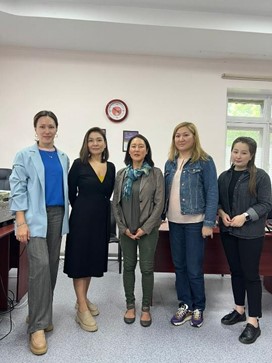 "We always say that multi-sector is so important, but we have limited research in this area. This opportunity is very important to us."

Lyazzat Kosherbayeva, Head of Policy and Management Department at Kazakh National Medical University
The smog hovering over Almaty, Kazakhstan does not just obscure the spectacular view of the white-capped Tien Shan mountains; it infiltrates the lungs of residents. Fine particles (PM2.5) – tiny microns known to cause chronic breathing and heart problems – float in the air at greatly elevated levels. In public health, this is a particular concern for the tens of thousands of pregnant women who breathe them in, with potentially permanent impact on their unborn babies.
With a grant awarded through the U.S.- Kazakhstan University Partnerships Program, administered by American Councils and funded by the US Department of State through the US Embassy in Kazakhstan, ity and Lehigh University set out to tackle this problem, quantifying the health impacts as the first step to transforming public policy.
"One of the most intractable barriers to an improved understanding includes an overall absence of valid ground-level air quality data in Kazakhstan," the group noted. "Such an absence of human air pollution exposure data means that protective policies for the general population could not be developed."
Each university brought strengths to the partnership. Kazakh National Medical University (KazNMU) brought medical and public health expertise and its relationships with local health clinics. Almaty Management University's (AlmaU) School of Digital Tech brought its expertise in data management and database building. And Lehigh University brought its expertise in multidisciplinary science including Geographic Information System, epidemiology, biostatics, data collection, and inferential interpretation of the data.
Together, the partner universities collected data on the pollutant exposure and health incomes of approximately 10,000 mother/infant pairs and aggregated air pollution data from 34 sensing stations in Almaty. They built a database that made this information usable, taking data that was either text-based or unwieldy – one clinic handed over 800 pages of PDFs – and transforming it into an accessible and searchable electronic database.
Their preliminary data tracks PM 2.5 levels throughout the city, identifying the effects of elevation and other factors. The team has been able to validate the data using Krippendorf's alpha, demonstrating substantial agreement or near perfect agreement in nearly every case. Tracking a three year cycle, they recorded dramatic increases in the Air Quality Index during the winter, into the "Very Unhealthy" range and up to three times the levels seen in Western countries.
This multi-pronged approach has opened new doors for the participants to work on the connections between environmental and human health. The next phase of the project will involve linking the personal exposure of expectant mothers with health data for themselves and their infants.
INFRASTRUCTURE AND CAPACITY-BUILDING FOR LONG-TERM IMPACT
The project was far ranging, with nearly 100 meetings, class sessions, and events. Beginning in January 2022, Kazakhstani and American partners met two to three times a week via Zoom.
Training was extensive, and applied. Participants from KazMNU audited courses at Lehigh with a particular focus on research methods. Lehigh students were recruited from the university's Global Social Impact Fellowship research program. Principal investigator Dr. Hyunok Choi trained Kazakhstani and American participants in research skills including Geographic Information System-based spatial trend analysis, epidemiology, and remote sensing.
In May 2022, six faculty members and 20 students from Lehigh University traveled to Almaty. There the team planned for primary data collection, secondary data abstraction, and visited various air pollution sources. They also worked with Almaty Management University to automate data entry, translate, and build a database.
"This was a great opportunity for our students," said Dr. Kosherbayeva of KazMU. "It's very important that we can involve our doctorate students in working with international faculty." One KazNMU doctoral candidate is writing her dissertation on the project, with Dr. Choi as co-advisor. As part of her work in epidemiology, biostatics, and data collection, she conducted telephone interviews with 125 mothers who gave birth in the primary care hospitals. Under Dr. Choi's guidance, she is learning to write proposals that combine policy recommendations, community engagement, and a focus on environmental justice.
For Lehigh students, the work was equally transformative. "This project provided a real-life experiential learning opportunity by visiting Kazakhstan, seeing the air pollution in real-time, and analyzing the data they collected," Dr. Choi explained. And the students have continued their scientific development by presenting at a conference and to public audiences.
The project has developed the capacity of the university faculty as well. Five Kazakhstani faculty have been trained and six courses have been created or revised out of the experience, with the potential to impact thousands of students over the coming years.
Ongoing partnerships are springing from the project. Lehigh University has signed a Memorandum of Understanding with Alma University and is in the process of developing one with KazNMU. KazNMU has strengthened its relationship with other local universities and clinics in Almaty.
The project is continuing past the grant period, with data collection ongoing and other clinics joining the project. Over the next five years, the group plans to develop graduate and undergraduate research programming on database building, geocoding, and estimating air pollution exposures. They hope to employ single mothers in assembling air quality monitors and work with them as epidemiological study participants. This ground level data will enable the development of protective policies for the population, especially the most vulnerable sectors. "We have a lot of work ahead of us," says Choi.
About the U.S.-Kazakhstan University Partnerships Grants Program:
The U.S.-Kazakhstan University Partnerships Program builds capacity for substantive international engagement between higher education institutions in the United States and Kazakhstan. It facilitates partnerships that modernize curricula and enhance teaching capacity in STEM fields, increase research capacity –particularly in the areas of renewable energy, environmental sciences and air quality — and enhance institutional capacity for internationalization.
About the University Partners:
Lehigh University is a private research university of approximately 7,000 students located in eastern Pennsylvania. The Department of Population and Community Health has led air quality epidemiological studies in many former Soviet Republics.
Kazakh National Medical University is a top-ranked national university of approximately 11,000 students located in Almaty. It trains doctors and other medical professionals. The university partners with local medical clinics.
Almaty Management University is an entrepreneurial, socially responsible world class university located in Almaty.