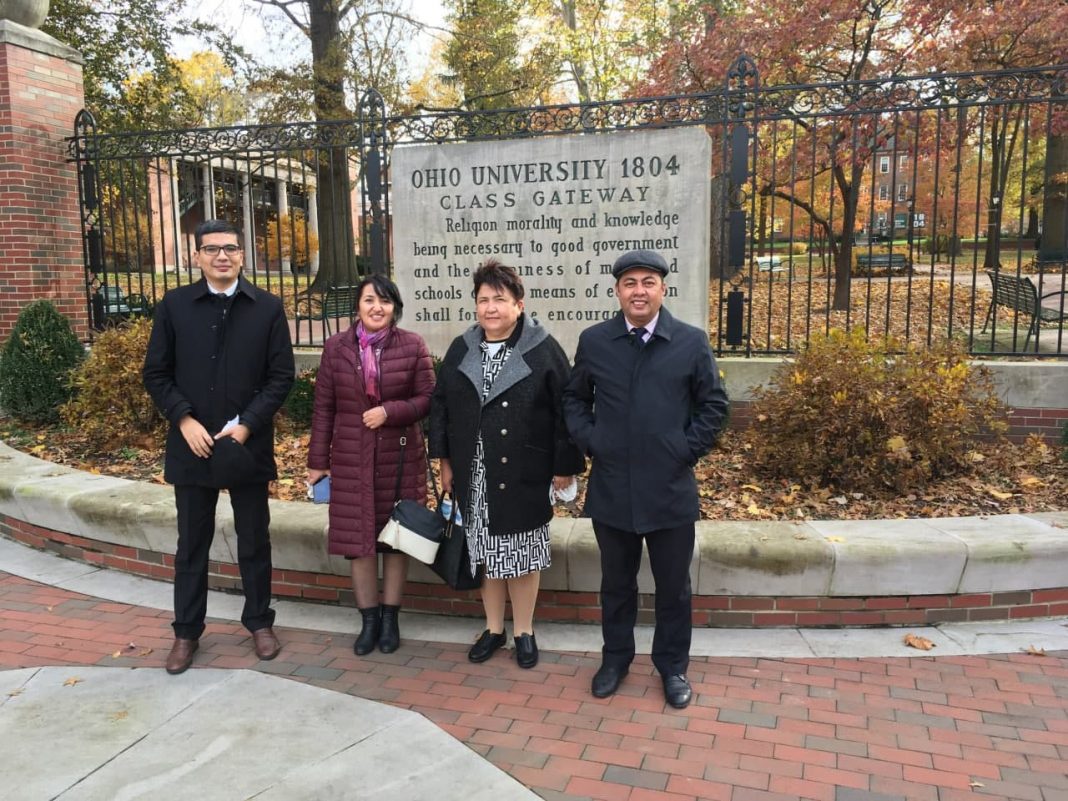 The Ministry of Public Education of Uzbekistan has introduced significant reforms in the education sector to modernize approaches and methodologies and to link education standards to best international practices. These large-scale reforms include the goal of improving the standard of English language teaching and learning outcomes of students. Through the Central Asia University Partnerships Program (UniCEN), administered by American Councils for International Education and funded by the U.S. State Department through the U.S. Embassy in Tashkent, Ohio University Program of Intensive English (OPIE) and Andijan State University are improve the English language and pedagogical skills for English teachers.
OPIE personnel in the initiative are Kyle Butler, Becky Challenger, Sally Hatfield, Gerry Krzic, and Aaron Schwartz. For ASU, Farhod Alimov, Head of the International Relations Office, and Professor Dilrabo Ahmadalieva coordinate the program in Uzbekistan. The plan, coordinate and monitor the project activities, ASU and OPIE held regular online administrative meetings.
In October – December 2020 and in January 2021, OPIE faculty offered online training sessions in Research Writing, Cross-cultural Communication, EFL Teaching Methodology and Instructional Technology to ASU students enrolled in the Teaching English as a Foreign Language preparation program. OPIE faculty also reviewed lesson plans submitted by ASU students and made recommendations.
The total of 25 ASU students have completed the virtual program offered by Ohio Program of Intensive English. The OPIE faculty reviewed and helped revise four courses taught at ASU, including TEFL Methodology for Communicative Language Teaching; Intercultural Communication; Utilizing Technology for Language Teaching and Learning; and English Language Skills for Writing a Research Paper.
The initiative has been a cross-cultural experience for all participants. In addition to OPIE faculty sharing their expertise, ASU students taught OPIE faculty about their education system and aspects of Uzbek culture such as the Uzbek national dish "palov," the importance of the extended family, and the special role bread plays in human relations.
ASU faculty and administration of four travelled to Ohio University on November 13-20. ASU staff participated in International Week Activities at Ohio University and met with OPIE faculty and staff to discuss further program initiatives.