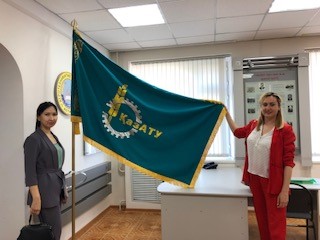 The distance between two research institutions in Kazakhstan and Pennsylvania is nearly 10,000 kilometers, but that hasn't stopped students and faculty from building a close international partnership.
Since 2019, a top-ranked higher education institution in Kazakhstan, S. Seifullin Agro Technical University (KazATU), has connected its students and faculty with their counterparts at Pennsylvania State University. Both institutions prioritize the role of a global perspective in higher education. As studying or researching abroad is not always a possibility for students and faculty, these institutions have gone beyond borders digitally.
To support global experience for all its students and faculty, the Penn State Beaver campus developed the Experiential Digital Global Engagement or EDGE program. EDGE enables Penn State faculty to co-create curriculum with their peers in other countries, leveraging accessible technology platforms like Zoom to enhance student interaction.
"Our students are less likely to study abroad than at other institutions," said Chancellor Jenifer Cushman, who launched EDGE at Penn State Beaver in 2016. "Interacting with students in the virtual classroom really connects the international realm and links to future study abroad potential."
With a grant administered by American Councils for International Education and funded by the U.S. Department of State through the U.S. Embassy in Kazakhstan, KazATU and Penn State have broadened their international activity using EDGE.
High-impact Learning Across 10 Time Zones
Through UniCEN, American Councils has cultivated a network of dozens of higher educational institutions across Central Asia and provided coaching and training to realize partnerships with US institutions. In 2018, Penn State Beaver invited two faculty members from the KazATU to its campus in Monaca, Pennsylvania for a workshop on how to launch EDGE, and see it working in real time. A reciprocal visit of Penn State faculty to Kazakhstan further established the parameters of the project, preliminary design, and possibilities for future semester-long projects. As a result of the initial campus visits, faculty designed two separate three-week modules where US and Kazakh students worked together in classrooms over video in real time.
In fall 2019, thirty-three KazATU ecology students and eight Penn State Scranton IT majors took part in co-designed and multi-disciplinary EDGE classes. KazATU students collected data on plant distribution in northern Kazakhstan and provided it to their student peers at Penn State Scranton, who created Eco Life, an Android app that brings soil data to life through data visualization, maps, and a glossary.
"Students develop their critical thinking skills by finding solutions to the issues they face in developing the app, so they are now thinking more innovatively," said Alina Zhaglovskaya, the professor who co-led the course.
In an English for Academic Purposes course, KazATU's agronomy students collaborated with Penn State Beaver's business writing students on two projects that contrasted food choices in the US and Kazakhstan, and a class presentation and discussion of English slang expressions. This interdisciplinary format prepared business writing students to communicate effectively with an international audience, interact with different cultures, and develop digital skills.
Virtual International Exchange is Transformative
Such high-impact practices help cultivate diverse and inclusive experiences for students to prepare them for the 21st century workforce, explained Tiffany MacQuarrie, an assistant teaching professor of English who co-led the project.
"The benefit of EDGE is that students can work together in a short time, interactions where students learn about culture and their schools and backgrounds," she said. "In order for our students to be competitive, we recognize the value of connecting with other countries, recognizing that we are global citizens. There is importance in communicating and learning about our place in the world and in the world around us.
Another key benefit of virtual exchange is accessibility. By avoiding the costs associated with international travel, US and Kazakh students took part in transformative academic experiences and completed assignments with real-world application. Giving IT students the opportunity for an international project was too good to pass up, shared Alan Peslak, professor of information sciences and technology at Penn State Scranton.
"So many haven't traveled out of state, so working with Kazakh students through EDGE offered a mind-expanding experience they won't forget," he said. "If there is a defined objective used outside of the classroom, students work harder for an external client."
In Kazakhstan, word of the program model's effectiveness spread quickly. In January 2020, the Association for the Conservation of Biodiversity in Kazakhstan contacted KazATU and Penn State with a request to build a custom app, which led to the launch of another class with 10 students involved. This project is now student-run with faculty members serving as advisors. The department of agriculture and plant production at KazATU now uses EDGE to teach English for academic purposes in a first-year master's course that launched in 2020.
Virtual Exchange is a Model for a New Era of International Higher Education
EDGE serves as a sustainable model for international partnerships between US and Central Asian universities. At present, KazATU is creating a guidebook for Kazakh colleagues to help replicate online learning platforms like EDGE. According to Saltanat Meiramova, Director of International Cooperation at KazATU, the virtual exchange model offers partners an inexpensive tool that is easy to replicate.
"It builds a long-term collaboration with our American partner and results in a syllabus designed for the course," she said. "The app can be taught and used for future cohorts."
The project, supported by UniCEN, helped both Penn State and KazATU better understand international collaborations and uncover further opportunities in Central Asia. Despite an 11-hour time difference, faculty in Pennsylvania and Nur-Sultan broke down the barriers for global learning.
About our Partners
Penn State Beaver and Penn State Scranton
Penn State is a public research university with 24 campuses across Pennsylvania, offering bachelor and graduate programs with a global perspective. Penn State Beaver is a commonwealth campus of Pennsylvania State University located in Center Township, Beaver County, Pennsylvania. Penn State Scranton is also a commonwealth campus of the Pennsylvania State University located in Dunmore, Pennsylvania.
S. Seifullin Agro Technical University (KazATU)
One of the top-ranked higher education institutions in Kazakhstan, S. Seifullin Agro Technical University (KazATU) has rapidly expanded its international collaborations with the United States.
About UniCEN Funded by the US Department of State through its missions in Kazakhstan and Uzbekistan, UniCEN is a platform to increase sustainable collaborations between US and Central Asian higher education institutions. UniCEN builds expertise in the areas of strategic planning, administration, faculty policies and practices, student mobility, curriculum development, and alumni relations to advance the development of mutually beneficial partnerships.