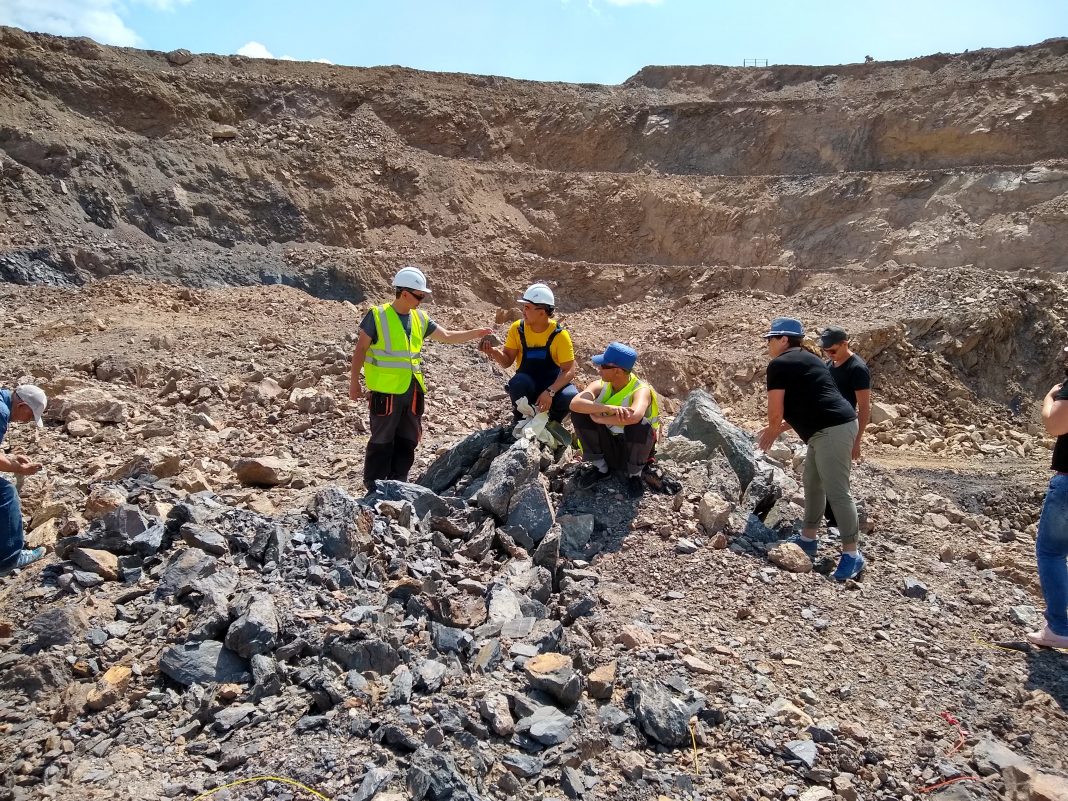 The geology of Kazakhstan boasts 99 of the elements of the periodic table. Near the city of Oskemen, rock formations are endowed with substantial reserves of precious metals, including gold and rare earth metals. Even though mineral resource extraction represents nearly one-tenth of Kazakhstan economy, there is untapped potential for sustainable exploration of precious metals and rare earth elements, vital for renewable energy and electronic devices.
With a grant administered by American Councils for International Education and funded by the U.S. Department of State through the U.S. Embassy in Kazakhstan, Western Michigan University and East Kazakhstan State Technical University (EKSTU) produced new data for the mining industry, indicating the potential of untapped mineral resources.
The discovery of several small gold deposits in eastern Kazakhstan region has sparked interest in the exploration of precious metals. Dr. Joyashish Thakurta, a faculty specialist focusing on economic geology in the Department of Geological and Environmental Science at Western Michigan University, noticed the potential of resource mapping in Central Asia. "There is very little pre-existing study on the isotopic characteristics of this region," says Dr. Thakurta.
Meanwhile, researchers at EKSTU sought international collaborations to better understand mineral deposits and evaluate the economic impact from geological research. Both Western Michigan University and EKSTU saw an opportunity to re-evaluate existing deposits and explore new mineral deposits as stockpiles of known metallic reserves steadily decline.
Golden Prospects
In July 2019, Dr. Thakurta and a team of EKSTU scientists led by Dr. Marina Mizernaya met geologists and engineers at the Sentash gold mine, where they observed mining methods and the preparation of ore concentrate.
Dr. Boris Dyachkov, a well-known veteran geologist of the region, organized a geological field trip to the Verkhnee Espe deposit, a rare earth element enriched zone about 100 kilometers from Oskemen, to observe geological characteristics of the area.
Under the supervision of Dr. Mizernaya, Ph.D. student Asel Akilbayeva collected samples for study and processing at the Center of Advanced Development, EKSTU's state-of-the-art laboratory, to determine chemical composition.
"Many U.S. universities would be envious of the laboratory," says Dr. Thakurta, recalling the X-ray diffractometer, scanning electron microscope, and Inductively coupled plasma mass spectrometry employed by EKSTU. "Instrumentation could easily compare with any research university in the U.S."
Then, samples were shipped to Western Michigan University's Economic Geology lab where Dr. Thakurta and a graduate student analyzed the powdered samples and calibrated the results to international standards. With the data analyzed at the lab, new clues were discovered about the origin of hydrothermal gold deposits to help industry expand exploration and identify new prospects.
The team authored an article on recent developments on the origin of gold mineralization in East Kazakhstan. In August 2019, Dr. Mizernaya presented the initial results of the data analysis at the 15th Biennial Meeting of the Society for Geology Applied to Mineral Deposits at the University of Glasgow, UK.
In addition to promoting her institution at a prestigious global meeting, she recalls that "it was a great experience collecting the samples, having a consultant for my student's Ph.D. thesis, and establishing a relationship between our universities for further development."
University-Industry Collaborations
The final dataset and interpretations will be published in a peer-reviewed journal in 2021 for the scientific community and local industry. In October 2019, Dr. Thakurta returned to Kazakhstan to share his team's initial research findings to representatives from KAZ Minerals, KAZ Zinc, and other industry experts to expand research with industrial support.
Research data produced by the U.S.-Kazakhstan team will be utilized by industry to understand more about the economic value of deposits in East Kazakhstan. "The Kazakhstan government is now being more proactive to catalyze the mineral industry to mobilize better expertise, equipment, and use of modern technology," says Dr. Thakurta.
In fall 2019, a delegation led by ESKTU rector Dr. Zhassulan Shaimardanov visited the campus of Western Michigan University to broaden the scope of research. A Memorandum of Understanding was signed that outlined far-reaching commitments in geophysics, new and remote sensing, as well as student exchanges, dual degree programs, and English training.
Looking to the future, university-industry collaboration can also fund initiatives to meet critical needs for workforce development, including industrial training to university students, specialized training and curriculum in economic geology, and integration of specialized software into the educational process. Discussions centered on acquiring research funds from the Government of Kazakhstan to support collaborative study on mining and mineral resources in Kazakhstan, in partnership with EKSTU.
About The Partners
Western Michigan University
Western Michigan University is a center for education and research that is home to a diverse community of faculty and staff members, undergraduate and graduate students, visiting scholars, researchers, and collaborators. The Department of Geological and Environmental Sciences is focused on research of hydrogeology, geologic mapping, environmental geology, applied geophysics, remote sensing, basin analysis, and subsurface characterization. In recent years, the department has extended its scope to new frontiers of earth science, including space and planetary sciences, astrobiology, airborne geophysics, and detailed reservoir characterization. The department includes many active research laboratories, all of which are state-of-the-art analytical facilities.
East Kazakhstan State Technical University
Since 1958, the D. Serikbayev East Kazakhstan State Technical University (EKSTU) has trained specialists in engineering, information technology, economics, management, natural sciences, and architectural design on the undergraduate, graduate, and doctoral levels. EKSTU is a leading technical university in Kazakhstan that strives to achieve excellence in all aspects of its educational programs and offers innovative educational and research solutions for contemporary economic and social challenges facing the international community.