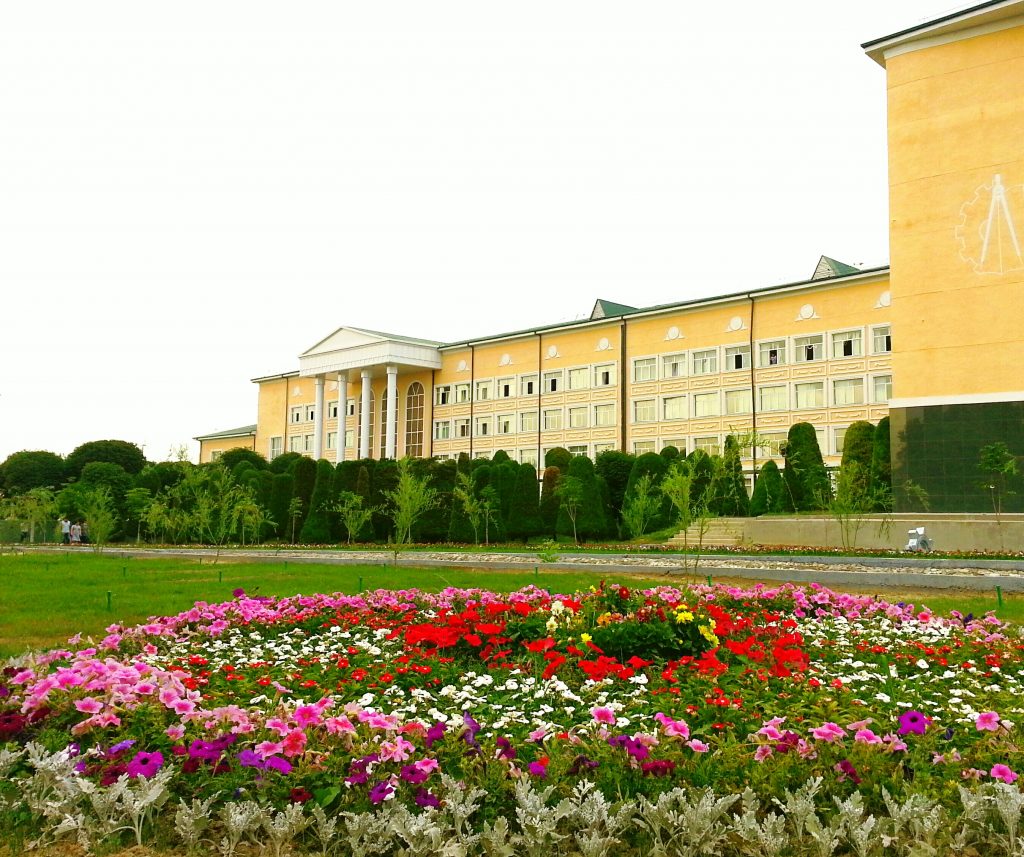 The Jizzakh Polytechnic Institute (JizPI) takes of a leading position in the preparation of qualified personnel in the field of technical and engineering science in the Republic of Uzbekistan.
JizPI was founded in 1977 as a branch of the Tashkent polytechnic institute and remained one of the most prestigious of the Uzbek technical universities. Since 1992 it is independent and has been placed in the city center of Jizzakh in beautiful buildings.
The number of faculties and departments: At present, there are 5 faculties – "Auto transport", "Engineering of buildings and constructions", «Industrial technology», "Electromechanics and Radio electronics", "Service", 24 departments, 30 bachelor's, 8 master's degree programs, and Ph.D. programs – 6, at Jizzakh Polytechnic Institute. The total number of academic staff working at the university is 383, including 19 professors and 83 docents.
CONDITIONS AT THE JizPI for international students.
4 educational buildings 105 classrooms
2 student dormitories with capacity 600
2 sport complexes
55 computer rooms
100 educational laboratories and workshops
6 scientific laboratories and centers
According to the Decree of the President of the Republic of Uzbekistan, it is planned to build a new training building for 1000 seats in the amount of $ 6.5 million, install new equipment in the amount of $ 3.2 million, and also purchase modern information technologies in the amount of 450 one thousand dollars.
 In order to implement this decree, the institute has established relations with leading scientific and educational institutions of the world. Organized the passage of continuing education courses, internships, studies at the masters and doctoral studies of the teaching staff at foreign partner universities.
The institute started working with international Tempus and Erasmus projects. It has been working within the CAD/CAE/CAM, ENGITEC, HIGHVEC in the framework of TEMPUS, INTRAS in the framework of Erasmus+ projects and "Solar Energy in rural areas" project in GIZ program. On this program there taken brought scholastic laboratory, equipment for scientific researches.
The number of students:  6220 students are studying at  BS educational directions and  96 specialized MS degrees of  Jizzakh Polytechnic Institute.
Our prestigious international partners: Moscow state construction university (MSCU), National Research University Moscow Power Engineering (MPE) (Russia),  Moscow State automobile-road Technical University (MADU) (Russia), University Polytechnic of Bucharest, (Romania), Shenyang Pedagogical University (China), Belarus State Agricultural University, Belarus State Technical University (Belarus), Hamburg University of Technology (Germany), Gdansk University of Technology (Poland), Don State Technical University (DSTU), Ivanovo State University of Chemical Technology (ISUCHT), (Russia) and others.
Address:
130100, Uzbekistan, Jizzakh, I.Karimov Street, Building 4
Contact information
Telephone: +998 (72) 226-45-06
Fax: +998 (72) 226-47-45
Website: www.jizpi.uz
e-mail: info@jizpi.uz, dgpi_info@edu.uz
Rector's office: +998  72 226-46-05
The Rector of  JizPI:  DSc. professor  Usmankulov Alisher
Rector's contacts  e-mail- usmankulov1968y@mail.ru