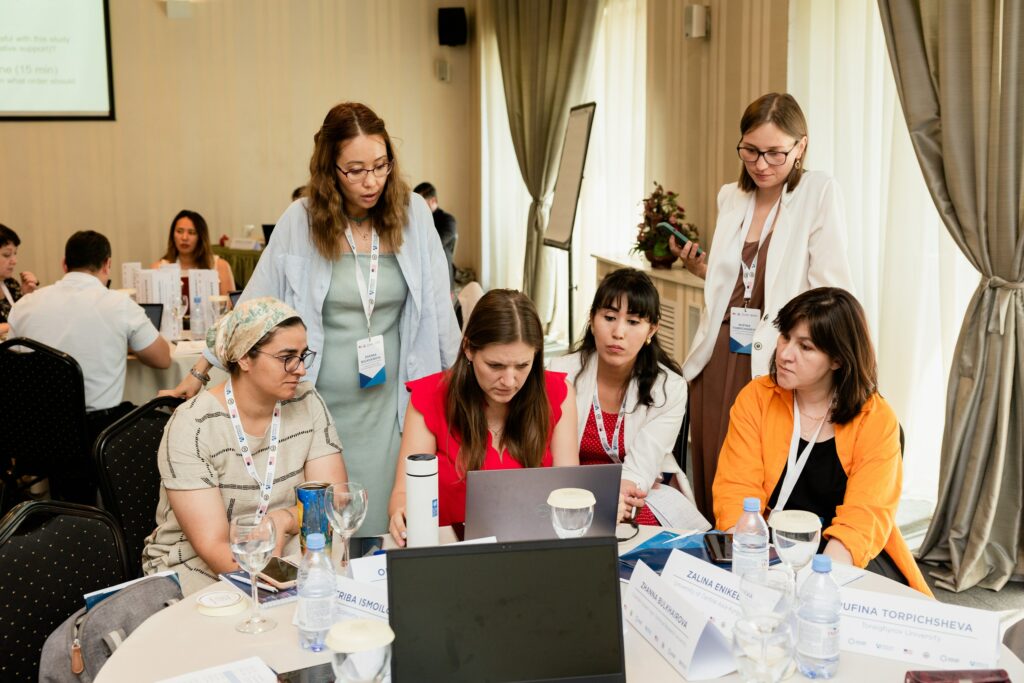 American Councils hosted a two-day Advanced Research Methodology Workshop on June 9-10 in Almaty, Kazakhstan, bringing together 40 participants from four Central Asian republics. The workshop aimed to enhance the research skills and capabilities of scholars and professionals in the region, fostering collaboration and promoting evidence-based decision-making.
Hosted by the Central Asia University Partnerships Program – UniCEN, the workshop provided a platform for participants to delve into advanced research methodologies and explore innovative approaches to data analysis. The event showcased the commitment of Central Asia to promoting rigorous research practices and elevating the standards of scholarship in the region.
During the workshop, experts in research methodology Dr. Andrew Zimbroff, University of Nebraska-Lincoln and Dr. Kimberly LeChasseur, Worcester Polytechnic Institute facilitated interactive sessions, addressing key topics such as experimental design, qualitative, quantitate and mixed research methods, an d ethical considerations in research. Participants had the opportunity to engage in lively discussions, and practical exercises ensuring a comprehensive understanding of the subject matter.
The workshop's diverse cohort comprised 40 enthusiastic participants, including researchers, academics, and professionals from Kazakhstan, Kyrgyzstan, Tajikistan, and Uzbekistan. Their presence contributed to the vibrant exchange of ideas, enriching the learning experience and fostering collaboration among the Central Asian republics.
The workshop concluded with a closing ceremony, where participants were awarded certificates of completion. They expressed their gratitude for the knowledge gained, the networking opportunities created, and the inspiration received to further excel in their research endeavors. The connections formed during the event are expected to foster future collaborations and joint research projects in the region.
Central Asia University Partnerships Program (UniCEN) extends its sincere appreciation to the workshop participants for their active engagement and to the distinguished speakers for sharing their expertise. Their contributions have been invaluable in making the event a resounding success. Furthermore, American Councils acknowledges the generous support from the U.S. Mission to Kazakhstan, whose commitment to promoting research excellence has been instrumental in organizing this transformative workshop.
The Advanced Research Methodology Workshop marks a significant step forward in strengthening research capacities in Central Asia. By equipping researchers with advanced tools and methodologies, the workshop has laid the foundation for continued growth, collaboration, and innovation in the region's academic landscape.
The Central Asia University Partnership Program (UniCEN), funded by the U.S. Embassy in Tashkent and administered by American Councils for International Education, strengthens capacities of U.S. and Central Asian university administrators and faculty to jointly address global challenges. Through over 75 partnership grants, UniCEN partners at U.S. and Central Asian universities have collaborated since 2018 to modernize curricula, co-develop jointly taught courses, and conduct research with economic impact.